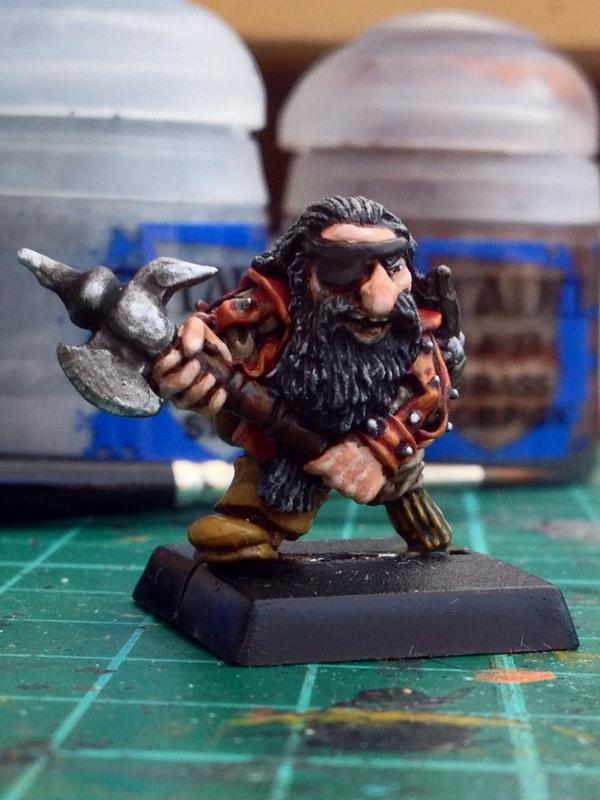 Got me a set of OOP metal dwarfs from fellow #warmonger @Woutertje_l. It is nice to exchange some old models lying around now and then. I happen to find an old Rhino he was happy with. In this way these miniatures get some paint and playing time, who otherwise were left in the dark in some storage box waiting for better times.
Ok, back to the dwarfs, some very nice old marauder dwarfs, but also a set of metal Ironbreakers there! I love the models that were there before the new plastic kit and already had a set of 10 painted. When playing I mostly added dwarf warriors to the ironbreaker unit to proxy a larger unit but now I can really field big Ironbreaker units! Woohoo!
Started painting some dwarfs from the sit just one by one. When looking at the OOP dwarfs the models are characters in themselves although being for example just dwarf warriors. Therefore it is nice to just pick a model and start painting. One of the first ones is this piraty wooden legged dwarf with the crossbow strapped to his back. I found this the ideal model for playing in Mordheim warband but also at the front of a Dwarf warrior unit. Started painting him and actually quite quickly this lad was done only missing his shield and a matching base to the rest of my dwarfs (stone tiles cast with hirst arts moulds).
The finished result is something that looks like the following.